Lauriston Castle
Lauriston Castle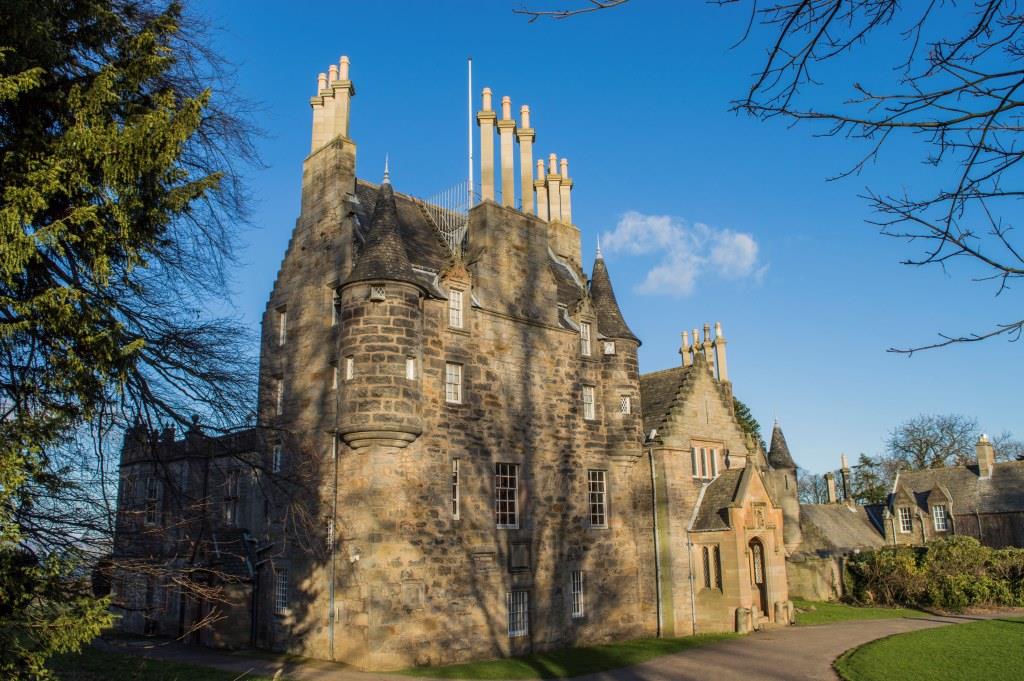 Lauriston Castle Details
Access: Limited opening
Condition: occ
First build century: 16th
Closest To: Edinburgh, Cramond
Grid Ref: NO761666
Last use century: 21st
Lauriston Castle lies in a public park on the outskirts of Edinburgh. It is built on the edge of a low rise which was once bounded by two small burns, only one of which survives today, and is a much extended early 17th century T-shaped tower house built for Sir Archibald Napier of Merchiston.
The tower house consists of a rectangular block of four storeys, with round turrets in the angles, and a large chimney above what is now the front door. To the rear in the centre was a round tower, corbelled out to a square caphouse, next to which is a small stair turret. This was extended substantially to the north and east in 1827 with a large mansion house.
The lands of Lauriston were held by a family of the same name in the 15th century, and passed to the Forresters of Corstophine in the late 16th century. Thomas Lauriston was probably married to Katherine Forrester, who held some of the lands after his death, and the balance appears to have been resigned to her by his brother Henry. In 1599 they were sold by James Forrester to Sir Archibald Napier. There was an earlier castle of the Lauristons or the Forresters here, which was demolished entirely by the English forces under the Earl of Hertford in 1544.
The castle was sold by the Napiers in the mid 17th century and subsequently passed through many hands including those of Sir John Law, until in 1926 it was bequeathed to the City of Edinburgh on the condition that it would remain as it had been left. The result is that today the castle can be visited (there is a single guided tour on selected days throughout the year) and is a museum preserving the appearance of an Edwardian mansion. It is still maintained by the City.
Official Lauriston Castle Museum website