Dalhousie Castle
Dalhousie Castle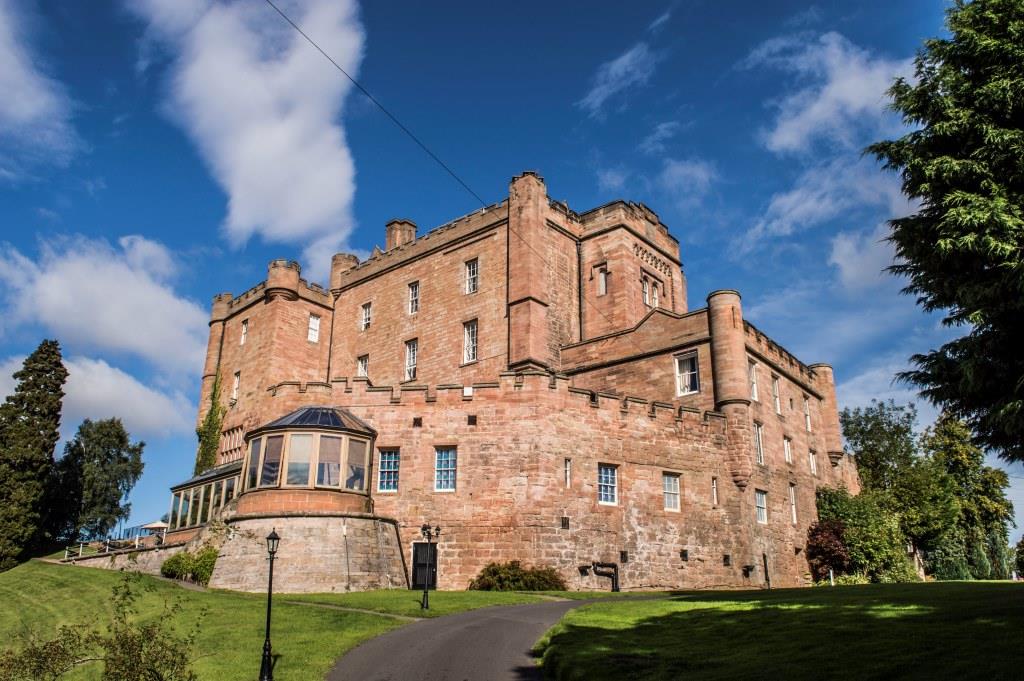 Dalhousie Castle Details
Access: Hotel
Condition: occ
First build century: 12th
Closest To: Edinburgh, Dakeith, Bonnyrigg
Grid Ref: NT323636
Last use century: 21st
Dalhousie Castle is a large and impressive multiphase castle within a 13th century courtyard wall that is dominated by later alterations. It is built of red sandstone and is sited on a small promontory on the west side of the River South Esk, several miles south-east of Edinburgh. It is now run as a luxury hotel.
The oldest section of the castle is undoubtedly the curtain wall, which is roughly square, but with one side angled. The 15th century gatehouse which serves as the modern entrance displays slots for the drawbridge beams, and is proof that the castle was once surrounded by a deep ditch. Within this wall is a large L-shaped tower house that is of broadly similar date, and which is barely discernible from the ground. The entrance was in the re-entrant angle of this tower. To the left of the entrance is a large round tower. Whilst of 15th century date, this was added on to the castle at a later date.
In the 17th century the castle was altered with a stair tower, and this was later extended upwards to meet the top of the keep. In 1825 the entirety of the courtyard space between the tower house and the wall was filled with buildings so that Dalhousie Castle today is a single large building retained within the confines of the old wall. Following a fire in 1867 the entire top storey was renovated.
The castle was the home of the Ramsay family from the 12th century until 1900, when they moved to Brechin Castle. Dalhousie hosted Edward I of England before he defeated William Wallace at Falkirk, and the castle remained in English hands for several years. William Ramsay fought with Bruce at Bannockburn, and his son Alexander was so prominent in fighting the English thirty years later that he eclipsed Sir William Douglas, who kidnapped him and starved him to death.
The castle was besieged for six months by Henry IV in 1400, the last time an English King personally besieged a Scottish castle. The family were long in high favour of the Scottish monarchy, and in 1633 Sir William Ramsay was made Earl of Dalhousie. Oddly by 1641 he had changed to support the opponents of the King, and Cromwell used the castle as his headquarters in 1648. The castle had fallen into disrepair by the end of the 18th century, which is why so many changes were made to it in the 19th century.
Official Dalhousie Castle website