Crichton Castle
Crichton Castle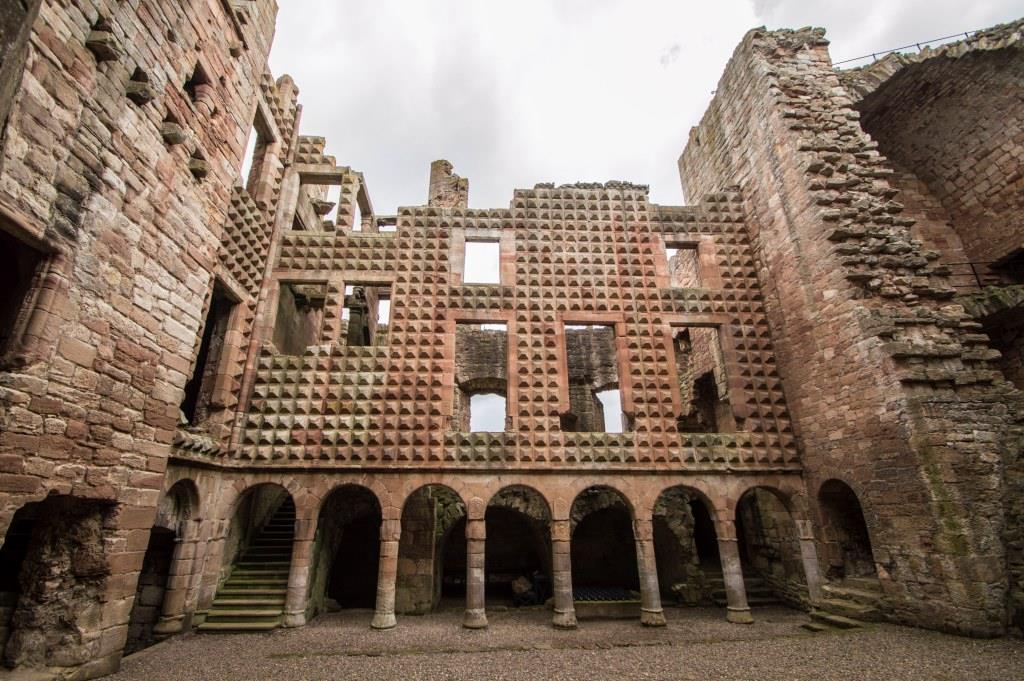 Crichton Castle Details
Access: Historic Scotland
Condition: ruin
First build century: 14th
Closest To: Dalkeith, Bonnyrigg, Gorebridge, North Middleton
Grid Ref: NT380611
Last use century: 21st
Crichton Castle is surprisingly modest given the political heights that its builders achieved. It is found on a lonely ridge overlooking the River Tyne in the hills to the south-east of Edinburgh, and consists of a late 14th century tower and courtyard with later blocks added around the courtyard up to the late 16th century.
The three storey tower house almost feels like an afterthought today, and is completely overshadowed by the later works. However with a vaulted basement and roof, and walls over 2m thick at the base it was a strongly defended building. A door opened into the basement from the courtyard, and another accessed a narrow staircase leading to the hall. The basement was divided into two floors, the hall was a large and impressive space filling two floors on its own. It was built by John de Crichton at about the end of the 14th century.
A large hall block was added by his son William, and the courtyard entrance was moved around to the middle of this block, which contained a new Great Hall and a watch tower at the south-east corner. Soon afterwards the service wing was added. William Crichton was a trusted advisor to James I and was the chancellor of the young James II when he arranged for the judicial murder of the Earl of Douglas at Edinburgh Castle in 1440.
William was present at the murder of the next Earl of Douglas in 1452 and died in 1454; his son James had been made Earl of Moray in 1452, but died a few months after his father. James' son William garrisoned Crichton Castle against King James III and had to flee, his castle taken by the Crown. In 1488, after the death of James III, Crichton was granted to the Hepburn Earls of Bothwell. The 3rd Earl attempted to marry Mary of Guise, mother of James V, and when he failed, treasonously turned to the English, resulting in the siege and capture of the castle in 1559. His son was the famous Earl of Bothwell who married Mary Queen of Scots and fled the country. The castle and Earldom was transferred to Francis Stewart, and in the 1580s, he erected a palatial new lodging at the castle. Unfortunately he was accused of witchcraft and fled to Naples where he died in poverty. The castle was abandoned and left to ruin by his son and is now in the care of Historic Scotland.
Official Historic Scotland page