Borthwick Castle
Borthwick Castle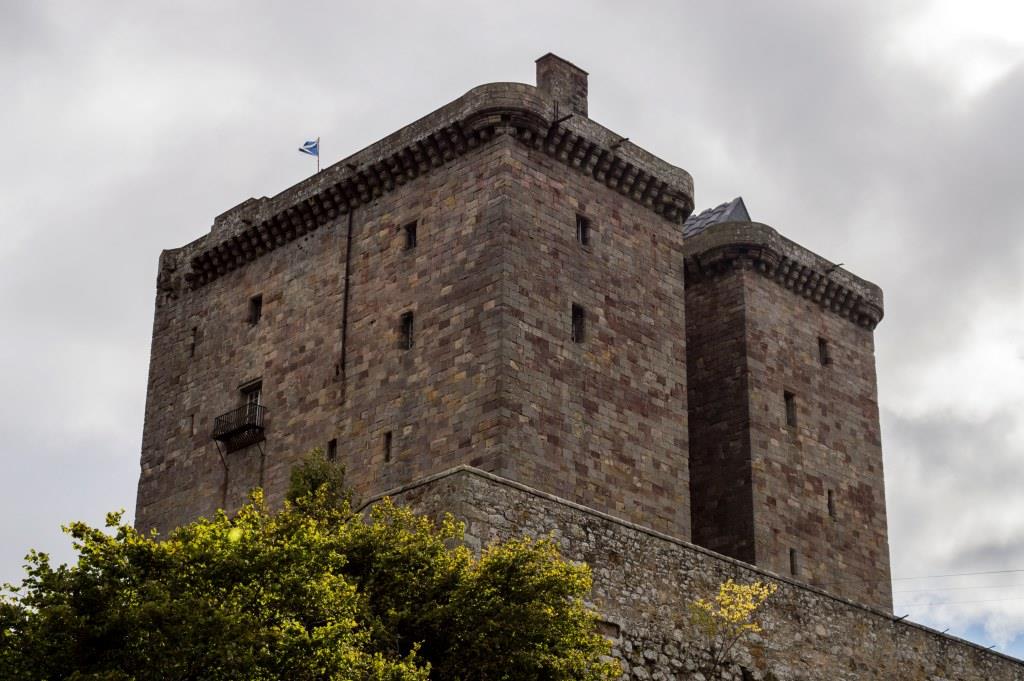 Borthwick Castle Details
Access: Hotel
Condition: occ
First build century: 15th
Closest To: Gorebridge, North Middleton, Bonnyrigg, Dalkeith
Grid Ref: NT770544
Last use century: 21st
Borthwick Castle is one of the most instantly recognisable and impressive tower houses in Scotland. Consisting of a massive tower and courtyard, it is the tower which stands out as it is an unusual U-shape, with a hall block to the rear and two projecting rectangular wings to the front. In between the wings is a deep and narrow recess, perpetually in shadow. The top of the castle has a machicolated parapet, with round bartizans at the corners. The courtyard originally had round defensive towers, but only one remains, which has been restored. The castle is operated as a hotel, but is undergoing refurbishment and due to reopen in 2015.
The castle is strongly situated on a steep-sided peninsular between two burns, and the only viable approach is from the west. It lies a dozen miles or so south-east of Edinburgh, and was built by Sir William Borthwick in the 1430s upon the site of an earlier earthwork castle called the Mote of Locherwart. Parts of the ditch and rampart from this castle can be seen to the east at the base of the promontory.
The main entrance is on 1st floor level in the north wall, and is reached via a bridge from the curtain wall. The basement contains three small vaults beneath the great hall, and a small chamber at the base of each of the wings. Each of the wings contains seven small chambers, but there were only three floors within the hall block. The great hall and the upper hall were also vaulted, and of double height, although the upper hall is split into two floors today.
Thomas de Borthwick obtained a charter to lands near Lauder in the reign of David II, and presumably must have held the lands of Borthwick, but it was his great grandson Sir William who was the first to consistently be called de Borthwick and was made the first Lord Borthwick by 1430, and started building the castle we see today. The 3rd Lord Borthwick was killed at Flodden in 1513, and the 5th was a loyal supporter of Queen Mary. In 1650 the 8th Lord Borthwick held the castle against Cromwell, who battered the east wall with cannon – the damage from which can still be seen today – causing the castle to be surrendered. The castle was abandoned soon afterwards but remained a property of the Borthwick family. Restored in the early 20th century, it was leased in 1973 and converted to a hotel.
Official Borthwick Castle website